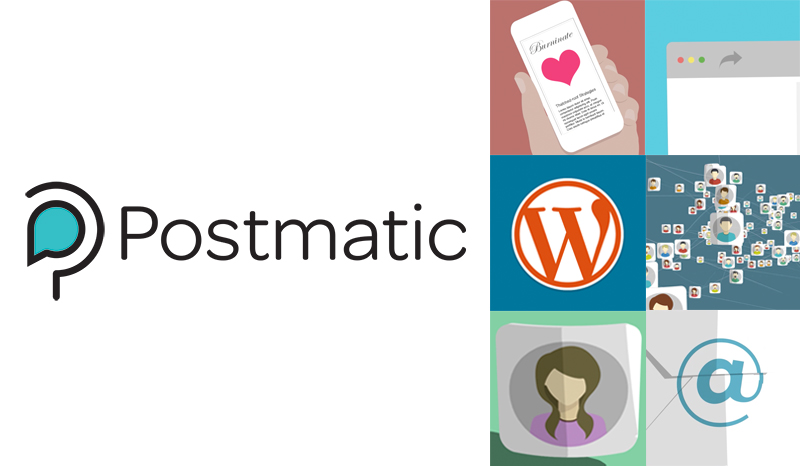 Postmatic – WordPress Email Plugin That Improves Comments
Have you looked around lately for a WordPress email plugin?

There is a lot going on in that market, I remember just a few years ago you'd be hard-pressed to find 3 free WordPress email plugins, let alone premium ones.

There just weren't any out there.

Not anymore, things have drastically changed since then.

They're about 15 competing premium plugins out there that cater to email marketing, and additional 30 more free ones that are all taking a different approach to this whole WordPress email plugin problem.
The problem with the whole WordPress email plugin scene
To this day the main issue with email marketing is that it has yet to become a first class citizen of WordPress.

This is very much apparent when you take a look at JetPack's (Built by WordPress guys themselves) email plugin.

It's very basic and simple and barely has two features to rub together, forget about customizing your email templates, that's not going to happen.

It's almost as if no one expected email to still be this important, but the data says differently.

In fact email in terms of driving business and sales, email marketing is much more effective that social media and other forms of marketing communication online.

Email isn't going anywhere, anytime soon.

This fact has brought a lot of new premium players into the WordPress email plugin space to fill that void but they're big problems with all these plugins from the research that I've done.

Roughly 90% of these premium email plugin providers are developers that don't know anything about email marketing and even less about marketing.
So the result is the feature war that we now see happening in the space.

When the dust settles we have featured filled overpriced bloated plugins that do all sorts of stuff except the things that make sense in the context of WordPress.

Some of the things that make sense.
Fully integrated comment forms that acts as a email form as well. (Some plugins are attempting to do this but not in the right way)
Automatically send the subscriber more content that's related to the one they commented on.
Subscribe with social accounts, with an additional option to refer their friends from that social platform (viral list building).
Smart subject lines in emails, basically the plugin would choose the headline from the most popular post from the blog. The logic behind this is simple, if it's the most popular headline on the site then it would be the best choice for the email subject line as well.
Believe me, I could dive deeper than that but there's no need, none of the plugins that are currently out there does any of what I've just suggested.

This is why commercial 3rd party options like Aweber, GetResponse, MailChimp and others are still so much more appealing because those guys are marketers, they get it.

Which is why' they're so pricey.

So what can be done to fix these WordPress email plugin issues?
This is where Postmatic steps in
Postmatic is very specific with the problem it wants to solve and that is improving the WordPress user commenting experience via the use of email.
That's a good approach and I like the concept giving users more control over a conversation by extending that discussion to email.

The core feature of this tool is that subscribers to your blog can now comment on your blog right from within their email simply by clicking reply.
Here's why that's awesome.

It works, this tactic works, it's just that simple. How do I know it works?
Well, Google is already doing it via their Google+ platform, all Gmail users can comment on any Google+ post right from within their Gmail client.

Not only that, but seeing as I run a Google+ brand page that has over 400K followers I've seen it happen first hand.
One of the great benefits of this is that your content becomes more viral and the life span of a blog posts are extended as well.

Pros of Postmatic
Nice clean responsive email template
Users can reply directly from their email client (Gmail, yahoo etc.)
Almost zero configuration required
Ability to import JetPack and MailPoet subscribers
Cons of Postmatic
Not enough email template customization
No option to use email delivery services (Sendgrid, Mandrill, Amazon SES, etc.)
Limited statistics on subscribers
No way to send weekly summaries of blog posts made on a blog, sending an email for each post can get spammy very quickly
No smart subject line feature, like what I explained above
Unable to send email to registered WordPress users (You have to send them an invite first, this is awful)
Most of these can be resolved by just adding them as features, the only one that concerns me, is the last one.

The fact that they are inviting already registered users to join a mailing list – takes away the whole native email plugin context and makes it appear as if they don't understand WordPress as in-depth as they need to, from a user experience point of view at least.

For example, let's say you have a membership website which thousands of people are using WordPress.

You have 60,000+ members, you'd have to email these already registered users to your website and ask them to subscribe to a newsletter?

They already signed up, went to they're emailed to confirm their registration, that's already a double opt-in, why would they need to opt-in again?

That's my biggest issue with the plugin.

Now it's still in Beta so hopefully let's hope this is something that will considered as they move forward with new features.
Is this worth your time?
A part from my personal issues, I still feel it's a great starter email plugin for emailing a few hundred or a couple thousand subscribers.

But to run true scalable email marketing campaigns, I'd recommend still going the premium route.

Check out PostMatic and see if it's for you.