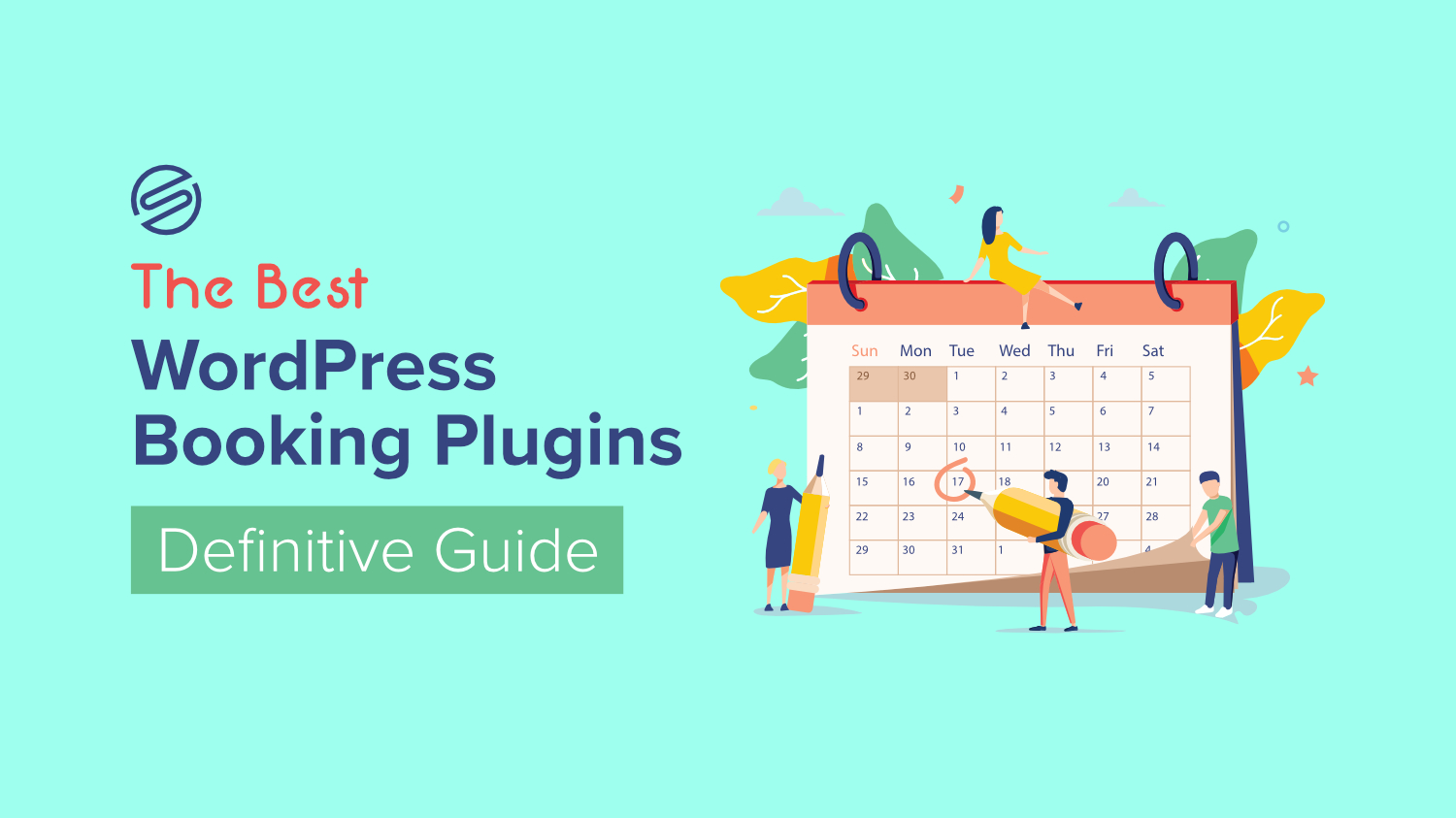 WordPress Booking Plugins 101: The Ultimate Guide
There is no shortage of appointment booking solutions out there.
And for good reason.
Since there are over 20 million appointment-based businesses in the US alone.
Within the WordPress ecosystem. There are over 30 different WordPress booking plugins. They all have various strengths and weaknesses.
I'm creating an appointment booking SaaS product powered by WordPress called Booking Pages.
The process of creating that platform is what lead me down the rabbit hole. It spanned weeks of researching and testing over 2 dozen WordPress booking plugins. All to find the best booking plugin for WordPress.
I've dedicated well over a hundred hours to this.
Before we start on the plugins, let's take a look at the appointments and bookings market.
This is a large market that spans many industries. Which means different businesses have different requirements. Hence why so many different booking plugins are out there.
And this is only the WordPress list, imagine how many 3rd party SaaS solutions exist in general.
We'll start with the plugins that are the most popular and have widespread usage. then move on to other WordPress booking plugins.
For this post, we're going to focus on these WordPress-based solutions.
When do you need a WordPress Booking Plugin?
The requirements for a booking plugin depend largely on what type of business you run. So when considering your options, it's important to think about the use case for your industry.
For example, if you run a hair salon in and are taking a combination of walk-ins and the weekdays and appointments-only on weekends. An appointment plugin that is designed specifically for beauty salons is most suitable. Over one designed with generic appointment bookings in mind.
And while this post will outline some generic WordPress booking plugins. It will cover niche/category-specific appointment booking plugins as well.
Best WordPress Booking Plugins (Our Criteria)
Amelia
You've been working hard to grow your business, but you can't keep up with the demand for appointments and events.
Amelia is a simple yet powerful automated booking specialist. It will make sure your customers can book appointments or events and pay online even while you sleep!
It will take care of everything from start to finish – all without any human intervention.
It is the perfect assistant for busy professionals who want to focus on what they do best.
It does not matter how many people are trying to book an appointment or event with you – Amelia has it covered! And if there is ever an issue, it will notify you immediately so that it never becomes a problem again.
So go ahead and get back to doing what matters most – running your business! 
Amelia Pros and Cons
Pros
Amelia has the best overall design I have ever seen in appointment booking software. WordPress or otherwise.
When Amelia says Enterprise-level appointment booking manager for your business. They are serious about that.
The booking forms are beautiful; they have the second-best looking form. The Amelia admin area has a sleek modern user interface.
Recurring appointment scheduling is a feature that was added recently. It is a great benefit for business owners with dedicated clients.
The Zoom and Google Meet integration are no-brainer integrations. This makes sense now more than ever even as we are moving towards a post-pandemic world.
WooCommerce integration
Google Calendar 2-way sync
Outlook Calendar 2-way sync
Stripe payment integration
PayPal integration
Mollie payment gateway – This is the latest payment gateway that has been added. This is significant as Mollie opens up Amelia to accept payments from all over the world. Making Amelia truly an international appointment booking system.
SMS notifications and automated notifications
Manage multiple locations
Book appointments, services, and events.
Cons
The SMS notifications feature is a hosted solution. Does not offer any direct integration with SMS platforms like Twilio.
Instead, you have to buy credits from Amelia. Which is simply using Twilio in the background to send those SMS notifications. They then add markup pricing to it.
I find this to be a very shady tactic, at the very least, give me the option to directly integrate with Twilio.
Additionally, this approach to SMS notifications adds unnecessary friction to your workflow.
What if you're already using something like SMS Pro, Orderable, Gravity Forms? Or any of the other popular plugins out there that offer direct integration with Twilio?
Well, now you're forced to include Amelia SMS into your workflow. This becomes more convoluted when you're doing this for a client's website. Now they are asking you why do they have to sign up for 2 different SMS services that are doing the same thing.
I hate this, it's the number one reason I didn't choose Amelia for Booking Pages.
Although Google Calendar and Outlook 2-way sync are available. Setting it up is not the easiest thing to have a client do.
First of all, most of them have no idea what the Google Cloud Platform is. Let alone setting account credentials.
I send my clients instructions on how to set up Google Calendar and without fail, I always end up having to do it for them.
Here's how it should work:
They go to the integrations section Amelia
There's a button that says connect to Google Calendar
Click the button to sign in with their Google account
Authorize access to their Google Calendar
Done
No credentials, creating a project, copying and pasting secret keys. Just a few clicks and they're done.
No official Multisite support, the plugin technically works on a per sub-site basis. But there are no Network settings available to set limitations on a per-site basis.
No API – if you're a business owner simply looking to take appointments on your WordPress website. This doesn't matter to you. However, if you're a developer and would like to expand the Amelia plugin, that's not possible yet.
The reason why I say "yet" is because of TMS-Outsource. The company behind Amelia is also the creators of wpDataTables.
One of the most popular tables and charts plugins for WordPress. wpDataTables has a robust API – that allows you to do anything imageable in terms of integration.
That gives me hope that they will offer an API for Amelia in the future. No telling when that would be as it is not currently on their roadmap.
Overall, this is in the top 3 of all WordPress Appointment plugins. That said, the SMS implementation is a hard pass for me. And since there's no API, I can't bypass their SMS feature with my own. It won't work for Booking Pages.
But I can still see myself offering this to individual clients. Who already have a WordPress website up and running.
No native Gutenberg support, in 2021 not having your booking form rendered as a block is unacceptable.
Bookly
First off, I hate this plugin! In my humble opinion, it's the worst WordPress booking plugin on the list.
So why would I place it at number 2? Well, it is one of the most popular WordPress booking plugins out there. With over 50K active installs of its free version and 38K purchases of its premium plugin.
It has a beautiful user interface second to only Amelia. The customer support is fine, it's
loaded with features and the pro version is not expensive.
All of that sounds great. So why do I hate it?
Because of how this plugin was built.
The free version is a WordPress solid appointment booking plugin. You can make appointments, set your time and schedule.
If you want online payments, an unlimited number of staff members and services. Or the ability to install add-ons is NOT AVAILABLE in the free version.
So you have to go with Bookly Pro, that's where the problems start.
Once you go Pro, the features of the plugin spread across an ocean of add-ons.
Bookly Pro itself is an add-on, which allows you to then use the other add-ons…SMH
I'll break down the pro and cons of this.
Bookly Pros and Cons
By now you should be connecting the dots of how ridiculous the plugin is. This greed-filled setup places profits over customer needs.
Let's do some quick math, Bookly Pro will cost you $89, and the add-ons I mentioned above total $351. Totaling $440.
And these are just a few add-ons, they're dozens.
This plugin was the go-to as the best in class in the early days of WordPress booking plugins. With plugins like Amelia on the scene, there's absolutely no reason to choose Bookly. None!!!
Booked
Once the reigning king of WordPress booking plugins. Booked remains one of the top booking and scheduling plugins out there.
With over 13K customers, it is one of the best-selling booking plugins on Codecanyon.
Some of the standout features include:
Front-End Agents – Your Booking Agents will have a new profile screen on the front-end. Which allows them to manage their incoming appointment requests.
Calendar Feeds – Display your appointments on Apple Calendar, and Outlook. With an iCal feed directly from your site. (not a two-way sync)
Payments with WooCommerce – Allow your visitors to purchase their appointments using WooCommerce.
Booked Pros and Cons
BookingWP
This WordPress booking plugin has the best of both worlds. It's a WordPress appointment plugin that's a WooCommerce Add-on.
I would go as far as to say BookingWP is the best WooCommerce booking plugin.
BookingWP takes care of the online scheduling of your products and services. It relies on WooCommerce to handle payments, which opens essentially limitless payment options.
BookingWP Pros and Cons
WooCommerce Bookings
This is the official (Sort of) booking plugin for WooCommerce itself.
Woocommerce.com has a pseudo (fake) marketplace with "certified" WooCommerce extensions.
The majority of the extensions are developed by 3rd party developers.
Since this marketplace is not a marketplace at all. There is no competition. Thus the approved 3rd party developers have no incentive to improve the plugin.
That said, WooCommerce Bookings is developed by WooCommerce. Not that made a difference in quality.
The end result is an overpriced mediocre WooCommere add-on.
If you are planning on going the WooCommerce route for booking appointments. BookingWP is a superior offering.
Pros and Cons for WooCommece Bookings
In my humble opinion, WooCommerce Bookings is the worst WordPress booking plugin. Yes, the owners of WooCommerce, Auttomatic. Who created WordPress, has the worst WordPress booking plugin.
The only reason why it is even on this list is that it is the official plugin of WooCommerce. With a price tag of $249 and an overall rating of 2.8 stars.
It is safe to say you can stay clear of this booking plugin.
It is trash, plain, and simple.
Team Booking
Team Booking took a different route when it comes to WordPress Booking. Instead of having Google Calendar Sync as a feature, that is actually the product.
It is clever and addresses a real problem. Many small business owners already use Google Calendar to manage their appointments.
This makes a lot of sense. Have an appointment booking tool that makes your personal calendar your mission control.
It does not match my criteria and requirements for a WordPress booking plugin. but it has its place.
Pros and Cons for TeamBooking
Although this plugin does not meet my personal criteria. It is specific with what it does and is suitable for folks who want to continue using their Google calendar.
For that use-case, they are the best at that.
LatePoint
Remember I mentioned Amelia had the second-best looking booking form?
Well, the first place goes to LatePoint.
When it comes to WordPress booking plugins that clearing has an elite designer on their dev team. LatePoint is obviously one such example.
As far as CodeCanyon is concerned. It is the most polished and feature-rich WordPress booking plugin.
It has some truly unique features that set it apart from other plugins on this list.
Pros and Cons for LatePoint
This is one of the best-designed booking plugins, WordPress or otherwise. I have a lot more to get into with this plugin, but I will save that for the individual LatePoint review.
Bookme
Bookme allows your customers to check availability and make appointments at their convenience.
With Bookme, you can manage the life of your service-based business. This is done easily with high-fidelity tools like full customization. Speedy sync with Google Calendar, SMS/Email notifications, Stripe, and PayPal integration.
Your clients have more options on when they want to schedule an appointment. Because Bookme supports WooCommerce scheduling compatibility!
In terms of design, the quality is on par with the likes of Amelia and LatePoint.
In fact, some of the designs of the Bookme appeared to be inspired by Amelia.
Pros and Cons for Bookme
Bookme is an awesome booking plugin overall. But where they drop the ball is when it comes to integrations. If your goal is simply to take bookings on your website and do not need a lot of bells and whistles as far as integration.
Then Bookme gets the job done with a nicely designed booking form.
Pinpoint Booking System
Pinpoint was one of the first WordPress booking plugins that had advanced features. Many of which are commonplace today.
The plugin pre-dates Amelia, Bookme, and LatePoint.
5 years ago, this plugin was considered top tier, but many booking plugins have emerged since then.
Pros and Cons for Pinpoint Booking System
Pinpoint Booking System remains a solid WordPress booking plugin. However, it is clearly showing its age. With so many great options in the marketplace, it's time for this plugin to get a full revamp.
Brindle Booking
This WordPress booking plugin rounds out the top 10. It is one of the latest entries into the WordPress appointment booking space.
I first came across Brindle Booking as a lifetime deal on Appsumo. Since I was in the middle of researching booking plugins, I purchased them to see what was up.
So far this plugin is in no way comparable to the top-tier WordPress booking plugins. This is to be expected as the plugin is barely a year old.
This is why it made it into the top 10. It has managed to do quite a bit in a year. They are showing a lot of potential.
Brindle Booking Pros and Cons
This plugin has a long way to go but rapidly developing. If Brindle continues at this pace. It will be on par with the likes of Amelia and Bookme.
WP Booking Calendar
This plugin is more than likely the first-ever WordPress booking plugin. I have no way of proving that but I know the first time I came across this plugin was way back in 2009.
This site was called WebsiteBuilders360.com back then.
Today, amid all the competition. WP Booking Calendar is still one of the most popular WordPress booking plugins. The free version has 60,000+ active installs.
The premium version has a solid set of features. Although, not enough to be comparable to top-tier booking plugins.
WP Booking Calendar Pros and Cons
WP Booking Calendar has certainly stood the test of time and is very popular. But with plugins like Amelia also offer a free version of their plugin.
I do not see any feature in WP Booking Calendar that would make me choose them over the other top offerings.
Calendarista
This WordPress booking plugin came from a previous plugin that has been deprecated. It was called Booki.
Although Booki is still available for sale, it has not been updated since 2018.
Typps, the company behind both plugins released Calendarista in 2018.
They took all the shortcomings of Booki and improved on them. The new booking system is an all-around booking system.
It is now a complete general-purpose booking plugin. Which includes:
Hotel reservation system
Car rental
Apartment rental
Travel agency
Beauty salons
Restaurants
You will be able to enable your website for online bookings quickly and easily.
The plugin has 12 booking modes and 3 payment gateway integrations. Also, it supports WooCommerce.
Calendarista Pros and Cons
Overall, this is a decent plugin. But it is missing key features that are essential for today's businesses. The ones that want to accept bookings.
Webba Booking
Although less popular than Calendarista. Webba Booking manages to check many of the boxes that Calendarista does not.
Additionally, Webba also offers a free version of the plugin with a little over 3,000 active installs.
According to Webb Booking. Their WordPress booking plugin is created with service providers in mind.
Webba Booking Pros and Cons
Although better than some of the mid-tier WordPress booking plugins. The premium pricing makes them more comparable to top-tier booking plugins.
Webba does not have the depth of features or quality of design to compare with others.
BirchPress
This appointment booking plugin is another one that has been around for quite some time. It has been around for more than 5 years.
BirchPress is one of the older booking plugins. They introduced many of the sophisticated features that are commonplace today.
BirchPress Pros and Cons
This plugin started out as one of the elite offerings for WordPress booking plugins. Since then, they have not done many features, enhancements, and integrations. I cannot find a single reason why this plugin would be your choice over any of the top 10 on this list.
MotoPress WordPress Appointment Booking
The MotoPress company became popular for its Hotel Booking plugin. It is the best Hotel Booking plugin for WordPress.
Recently they have entered into the appointment booking space.
If the success of their original booking plugin is an indicator. Then this new WordPress booking plugin has a bright future.
MotoPress Appointment Booking Pros and Cons
WooCommerce Bookings And Appointments
WooCommerce Bookings and Appointments is an add-on for WooCommerce. It allows you to sell appointments for your products.
Plugin Hive, the company is behind this plugin is a popular WooCommerce plugin shop.
They offer over a dozen WooCommerce plugins, this booking plugin being one of many.
It's hard to tell how popular this plugin is but in terms of features. It is much better than the official WooCommerce Booking plugin.
WooCommerce Bookings And Appointments Pros and Cons
In closing, this plugin covers most of the bases when it comes to features. But it falls short in regards to design and features. The pricing is not bad but several others on the list have better pricing. And they do not sacrifice design and features.
Simply Scheduling Appointment
Last but not least is Simply Scheduling Appointment, a relatively new player in the WordPress booking plugins space.
Although they are new, they have already checked a few boxes that some of the bigger players in the space have not. Currently, they have over 10,000+ installs of the free version of their plugin.
One of the big ones is that they offer a native booking form for Gutenberg.
One of the only 2 plugins on this list that has this feature. Which again, is unbelievable considering we are in 2022.
As far as the design goes, you may feel differently. As a designer and someone who does UI/UX every day.
Simply Scheduling Appointment completely deviating from the WordPress admin look and feel is bad design.
Even if the design itself is not bad, it is bad as far as the WordPress admin interface is concerned.
But that is my opinion, you may feel differently.
Simply Scheduling Appointment Pros and Cons
Which is the best WordPress booking plugin?
It depends, yes I know that is not the answer you want to it does depend on what your needs are.
The best overall WordPress booking plugin goes to LatePoint. It checks all the boxes and then some. If you are someone who wants a full booking solution minus the monthly subscription, LatePoint is the best bet. If falls short with the licensing. So if you are an agency this is not the route to go.
The next best thing is Amelia, it does 90% of what LatePoint does except it has better licensing. I am not a fan of their SMS implementation. I require direct integration with Twilio.
The most customizable WordPress booking plugin is BookingWP. If I was looking for WooCommerce based solution, Booking WP is a no-brainer. It would be my first choice without a doubt.
Since it is WooCommerce based, payment options are limitless. BookingWP also comes with an API, which allows you to build whatever you want.
My personal choice for Booking Pages is MotoPress Appointment Booking. It checks all my boxes. A native Gutenberg booking form. It uses post types and taxonomies so customization and integrations are possible. Also works with Multisite and has a license for unlimited sites.
Conclusion
My search for the perfect WordPress booking plugin has been a long one. In the end, I learned a lot. With this many WordPress booking plugins. There is obviously huge demand for this type of plugin.
I hope I helped make your search a bit easier.
Thanks for reading.
Specialized Booking Plugins
Events Booking Plugin