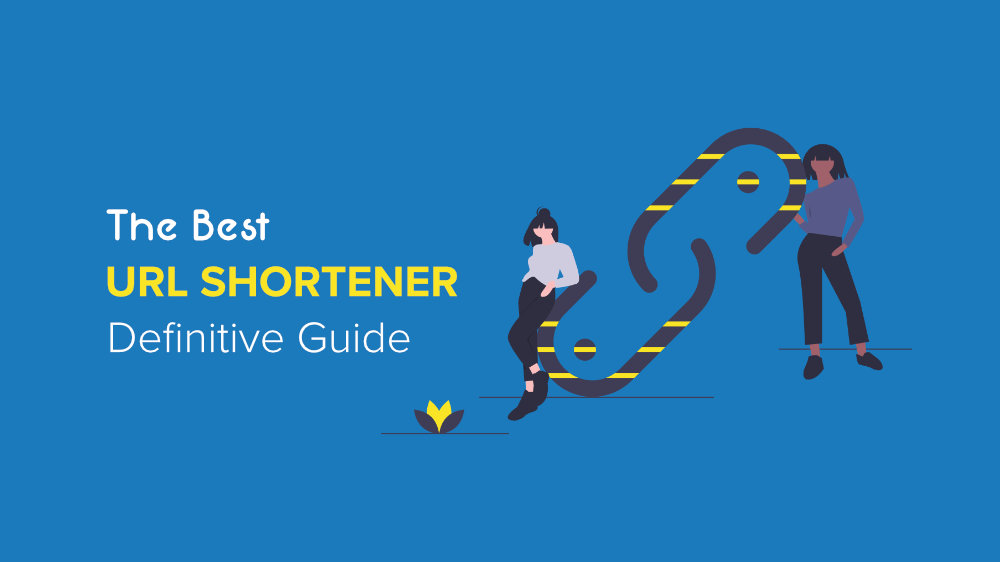 URL Shortener 101: Guide to Short Links & Analytics
URL shortener 101 intro
In this post, we'll cover in-depth URL shorteners. Also known as link shorteners and link redirect services.
Wow! Can you believe I first wrote this post back on May 21, 2009? That's more than a decade ago, at a time when social media (Still called Web 2.0 back then) was starting to take form.
Instagram wasn't launched until a year later. Apps like Vine (Came and went), Snapchat, and TikTok weren't even a thought yet.
URL shorteners were starting to make their way onto Twitter. As news sites needed to shorten their notoriously long and ugly URLs.
The demand for URL shorteners wasn't that high back then. Even so, you could find almost 2 dozen link shorteners and link redirect services.
I wrote about all those services. Today, 90% of those services aren't around anymore.
Things have changed quite a bit over the past decade. URL shortening services of the 2020s have become far more sophisticated.
And speaking of 2020 as we close out this wild and crazy year…
Now's the time to give the post a facelift.
Let's begin.
What is a URL shortener?
URL shortening is the process of taking a long, often unreadable, outright ugly URL and making it shorter, readable, dare I say more beautiful.
This link: https://mybrand.com/topic/category/subcategory_D/PageName/
Becomes: https://short.com/word
Or custom: https://short.com/your-custom-word
The rise in popularity of URL shorteners is a credit to the popularity of Twitter.
The social media platform had a character limit. Due to the limitation of mobile phones during the early 2000s.
The platform became the go-to for sharing news, which always had long URLs that ate up all the characters in a tweet.
Today Twitter has a built-in link shortener, but you were on your own back in 2009. Additionally, Twitter no longer includes hyperlinks in its character count.
Bonus: Long URLs no longer take up more characters on Twitter than shortened ones do.
Why should you use a URL shortener?
URL shorteners have various use cases, and they're as follow:
They shorten the ugly, long, and hard to remember URLs.
Great for promoting Affiliate Programs if you don't want to keep track of multiple domains.
Protects your affiliate links from scrapers that scan your affiliate links and replace your ID with their own.
Use to track multiple URLs to see how they perform (Split Testing)
Track analytics like the click-through rate of your links.
Send in emails to shorten long URLs that sometimes break depending on the email client.
Makes sharing on social media platforms easy.
Are URL shorteners safe?
Like with any URL on the internet, you should approach URL shortener links with caution.
URL shorteners' concern has risen since they could mask unsavory links. Taking users to websites that don't have the best intentions.
You could end up being lured into scammy or spammy web pages or even sites containing malware.
Some URL shorteners allow the user (that is, the person shortening the URL) to log the target's IP address.
Even if the reader isn't visiting their site.
So it's not a terrible idea to be wary of shortened URLs, even if many are innocuous.
This concern has even given rise to short URL checkers. They can reveal what's behind a short URL before ever visiting it.
List of free URL redirect checkers:
The concerns about URL shorteners are valid. That said, the risk level isn't any higher than links in an email or any links in general.
The best approach to ensuring that short URLs are safe is to look at the source.
Who or where is the URL coming from? Is it from a source you know or trust? This applies to all links, short or not.
Apart from that, the URL shorteners covered in this post are aware of these concerns. They have taken steps to mitigate exposure to unsafe URLs.
Are URL shorteners bad for SEO?
Another concern that has arisen about URL shorteners is their impact on SEO ranking.
Social network websites tend to put a "NoFollow" tag in the links that they provide to prevent any abuse.
But, even if search engines are respecting this tag. That's not the case for URL shorteners as they short circuit this process.
Yes, these types of links will be then followed back by search engines.
Which entails that some value will sooner or later pass through them.
It is a good thing for people who often use social media as part of their marketing campaigns. Or who just uses them to share content.
According to several ranking experts, it seems that using URL shorteners doesn't lead to any negative impact on your SEO.
As far as search engines are concerned. Short URLs are treated as any regular 301 redirects. So nothing to worry about there.
According to Google:
"If we try to crawl a page and we see a 301 or permanent redirect, which pretty much all well-behaved URL shorteners (like Bitly) will do, it will pass Page Rank to the final destination."
And with that, let us jump into the URL shorteners list.
The best free URL shortener services
TinyURL is a web service created by Kevin Gilbertson that provides short aliases to redirect long URLs.
Ah yes, it's only right we kick this list off with the OG URL shortener TinyURL.
Kevin Gilbertson, a web developer, launched the service in January 2002 because he wanted to link directly to newsgroup postings that frequently had long and cumbersome addresses.
Not only is it still around, but it's also alive and kicking. At the time of writing this post, TinyURL is ranked in the top 3,500 websites on the web.
…According to Alexa.
Apart from remaining popular, not much has changed since its inception. A new link preview feature was introduced to improve the security of the service.
That's in line with the URL shortener safety concerns we covered earlier.
Other than that, it's still the same ole TinyURL, no analytics, signing up, premium tier.
Sometimes less is more.
Update (2021): After 19 years, TinyURL has finally updated the design of their website to a new sleek modern look, you can now create an account as well to keep track of all your links.
As far as free URL shorteners go, there is only one that's worth mentioning in the same breath as TinyURL, and that Is.gd.
Is.gd (Which I pronounce "Is Good") is the second-largest free link-shortening service. It's been around almost as long as TinyURL, shortened over 1.7 billion URLs, accessed over 73 billion times.
It offers the ability to customize the short URL path. But unlike TinyURL, they offer no preview.
Not much else has changed since the launch of the site. Visiting the site is very much like hopping in a time machine and going back to the early 2000s.
If you want a dead-simple URL shortener with no bells and whistles, look no further.
Bitly is the free URL redirect service that benefited the most from the link shortener craze.
The service popped up on the scene in 2008 by 2009, it became the default URL shortening service on Twitter.
As a result, they became the most dominant URL redirect service. Even after Twitter replaced the service (Which had the shortest URL) with their own t.co service.
Some of the brands that rely on Bitly for link shortening include:
ESPN
Disney
Amazon
Nike
The New York Times
BuzzFeed
Gartner
Just to name a few.
The link shortening platform became attractive to publishers because it offered more than just link redirection.
Things like campaign management; that gives you access to various data points. These include location, clicks, swipe, content your audience cares about the most, and much more.
Brands found the service especially useful because it enabled them to have brand short links.
This is useful for bands as it keeps their brand on top of mind when shared on platforms they don't control. It also helps with assuring users that the link is safe.
This is powerful as it saves the brands millions in development costs creating their own link shortening solution.
As of August 2018, Bitly had shortened over 37.5 billion URLs.
If Bitly is the gold standard in link redirection services. Then Rebrandly is the number one alternative for anyone not fully satisfied with what Bitly offers.
Rebrandly took URL shortening and added multiple layers of additional services geared towards marketers.
While Bitly seems to attract mostly big-name brands and media companies. Rebrandly has a strong position in the entrepreneurial and small to mid-size business space.
As their name suggests, Rebrandly places emphasis on branded links. Instead of just being another URL shortener, they want you to rebrand the entire link at the domain level, not just the slug.
Here's a real-world example:
When I was actively running my site music site Mixtapes.tv. I had an additional branded short domain named Mixx.tv. That domain and a custom slug made for a very shareable brand link for social media and marketing campaigns.
So this:
https://mixtapes.tv/videos/fat-joe-cardi-b-anuel-aa-yes-official-video/
Would become:
mixx.tv/yes
Now that's how you shorten a link. It's not unique to Rebrandly. In fact, it's quite common among commercial URL shorteners.
Rebranding links is just the beginning. Other standout features include:
Editable destination URLs

Change the destination URL of any short URL at anytime

QR Codes

Generate and download QR Codes for your branded links

Open graph control

Control how to present content on social media when someone shares your branded links Single-sign-on change to Single sign-on (No dashes) change tooltip to Speed up the sign-on and login of multiple users- ideal for large organizations

UTM builder

Add UTM (Urchin Traffic Monitor) parameters to destination URLs to get branded link metrics in Google Analytics

Deep mobile link

Ever notice how click on a link in search results and it opens an app on your phone and takes you directly to the content you were looking at? That's deep linking and Rebrandly can do that out of the box.

Analytics

Aggregated reports, Private/public reports, and Custom report builder. You can shares these reports (With your branding) with your team and clients.

Collaboration

One of the most standout features is the workspace aspect or Rebrandly. You can connect additional users to create and share branded links as a team. Set up folders where members of the same team can view and manage sets of branded links.
Rebrandly does enough to separate itself from the pack, especially Bitly.
Tr.im continues with the trend of URL shorteners that cater more towards marketers, helping them optimize their marketing channels.
Unlike Rebrandly or Bitly, Tr.im's short URL is built right into its domain name.
Tr.im has about 80% of the same features as Rebrandly. Where Tr.im has an edge is with their link retargeting feature. They have a broader range of platform pixels that they support, platforms like Pinterest and Quora.
A key differentiator for Tr.im is their new offering called Tr.im Profiles. With social media platforms becoming more the default way brands connect with their audiences. This has given rise to "link in bio" services.
Tr.im Profiles is Tr.im's offering for those who want to consolidate all their links into a single profile where they can send their audience.
It's one step short of having to create your own website.
As we exit the top 5 of the link shorteners, we start to enter into the "me too software" tools. The differentiating features significantly diminish with the next upcoming services.
Blink is at the top of the second half of the list. They have a focus on Enterprise. Which you can tell by the Quote Request button at the top right of the website. As soon as I see "Quote Request," I know it's something that's going to be overpriced and I move on.
Like Tr.im, Bl.ink's short URL is also their brand name. Which is pretty cool.
Apart from that, not much is different, and it's just a matter of pricing, user experience, and UI (They have a nice one).
Short.io (formerly short.cm) has been around for a while. They offer the run-of-the-mill features you've come to expect from URL shorteners aimed at marketers.
They have a cool integration with Slack where you can create short URLs directly from Slack's interface.
There's also a macOS feature that allows you to create short URLs using the macOS application. Making it exclusive to Mac users.
Their Zapier integration also offers the ability to do all sorts of interesting integrations with dozens of other 3rd party applications.
Short.io also offers a Chrome extension to create short links from your browser with one click! This also works with Microsoft Edge browser and any other browser based on Chromium.
If not for anything else, T.ly wins for having the shortest brand URL. However, that's where the wins stop.
Their free tier is not too shabby. It provides stats and a shortcode for your short URL. Which is a step up from Short.io, which doesn't have a free tier.
Their paid tier, however, doesn't offer anything worth paying for. Except for the OneLink feature, which is their version of Tr.im's Profiles feature.
Tiny.cc is an OG-free URL shortener that's been around for at least a decade. Tiny.cc is comparable to TinyURL and Is.gd, as it's a pure URL shortener with the ability to create a custom slug.
They do, however, have a premium standalone service, which can be found at Tinycc.com.
Their premium service is comparable to the likes of Bitly, Rebrandly, and Tr.im.
Switchy is a cool service and one I've used in the past, almost as much as Bitly. It has an excellent user experience and onboarding process.
That said, it's way too expensive, with their starting price being $47 a month. When you compare that to what you get with Bitly, Rebrandly, and Tr.im. It doesn't make sense to pay that much for a nice user experience.
Especially when you consider that the services mentioned don't have bad user experiences either.
URL shorteners for WordPress
If you're a WordPress user and you're looking for a dead-simple URL shortener to shorten post URLs. Look no further than WP.me Shortlinks.
It's free and comes as a part of Jetpack. Which is owned by Automattic, the parent company of WordPress.com.
It only works with WordPress websites (WordPress.com and self-hosted sites), no link tracking, no custom slug, literally what you see is what you get.
If you want a URL shortener that can match the likes of Bitly, Rebrandly, and Tr.im that's specific to WordPress, look no further than Pretty Links.
Years ago, Bitly was my go-to URL shortener. Once Pretty Links arrived on the scene, switching to it was a no-brainer since it did everything I needed minus the monthly subscription price.
All the short URLs in this post were all created by Pretty Links.
Pretty Links offers a free version of the plugin, but if you'd like to do more marketing-related things, you'll need to get the Pro version.
The best part there's no limit to the amount links you can create, whether it's 100 or 1,000,000.
If you have a WordPress site, Pretty Links is the way to go.
Conclusion
That wraps up this extensive list of URL shorteners. If you're aware of other services, be sure to list them in the comment section below.
We'll update this list.
Thank you for reading.