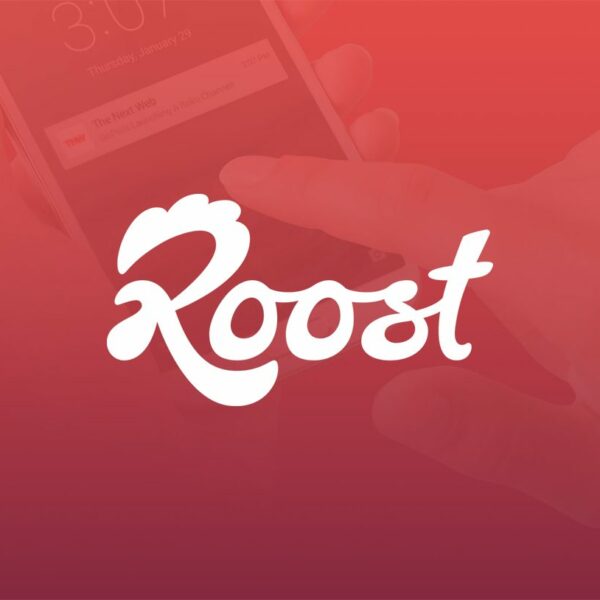 User Experience -

5/10

Features -

6/10

Cost -

9.8/10

Support -

4/10
Comments Rating
( reviews)
Roost – Web Push Notifications Made Easy
It's amazing just how fast the Internet is moving, just two years ago, I was looking for any possibility on how to send web push notifications for my website. The things that were available at the time were hacks at their best, with some requiring you to have your users download a notification app that would then redirect them to your website.
Fast forward to present day, web push notification is the new hot thing. You can easily find 10 plus services that now offer Web Push Notification for your website and web-based apps.
The service I want to talk about today is one that I'm currently using, it's called Roost.
Roost Review
I came across Roost while I was on some blog I can't remember the name of, reading some random article. I was using Google Chrome when a dialog box showed up on the top left of the browser address bar asking permission to send push notification from the website.
As soon I that, I was like whoa, since when can we do that? I immediately subscribed to see what would happen and that's when I saw the notifications were being sent by Roost. At this point, I realized I hadn't looked into web push notifications in a while and began searching around realized that web push notifications were not just on desktops but on mobile as well.
I quickly signed up to Roost since they were the first service I came across and this is what my experience has been with the service over the past year using them with my music & entertainment site Mixtape TV.
Pros
Setup & configuration is very straight forward and simple, I was up and ready to go in 5 minutes. I work with WordPress out the box, so you can just install the plugin from the WordPress plugin directory, enter your login information and you're ready to go.
If you're not running your site on WordPress, all that's required is to simply use the JavaScript code they provide and paste it in your site's header.
Sending notifications is pretty sweet, you can do it on a per post basis right when you're writing your post, you can send it from the Roost WordPress plugin Dashboard or you can send it from the Roost website itself.
You can send notifications to Google Chrome (Web & Mobile) and Safari (Not on iOS). (See the screenshots below)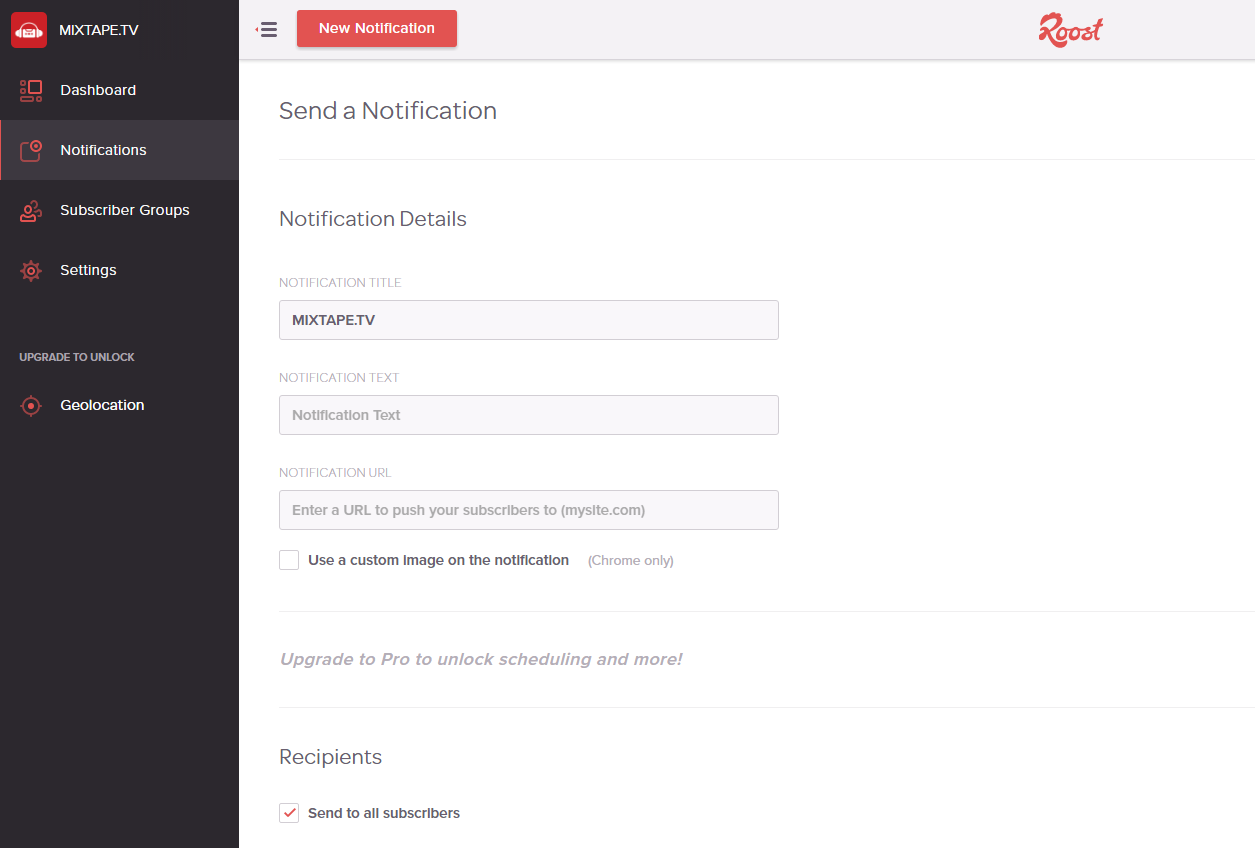 Statistics are easy to read and navigate, at a glance, you can view how my new subscribers you've received in the current week, total subscribers, notifications sent.
You can dive deeper into those stats to see what browser the users are using, how many users read your notifications and even the Geolocation of your users. You can also view some of these stats directly within WordPress.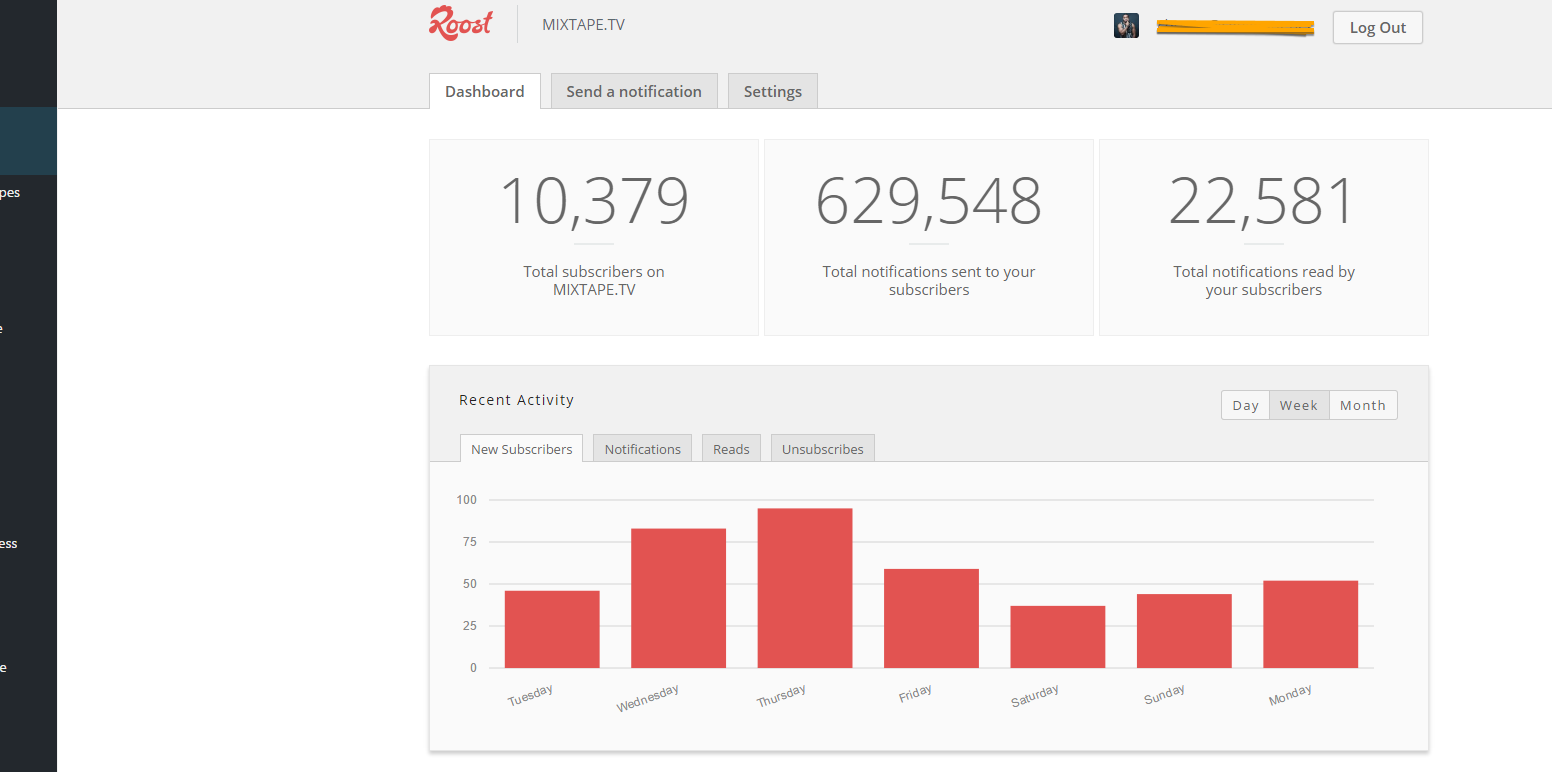 Bell is unique to Roost – As you test out these different web push notification services, you'll quickly realize that they're very similar, the differences are mostly apparent in their pricing structure and setup. Roost separates itself from the pack with a feature called Bell.
According to Roost:
The Bell organizes notifications for your users, even those notifications missed while away from their devices, in an in-page console.
In other words, users can view all their notifications directly on your site via an interface Roost provides. It's a really cool feature and gives your users more control over their notifications, something that they're traditionally only used to having when using a native app.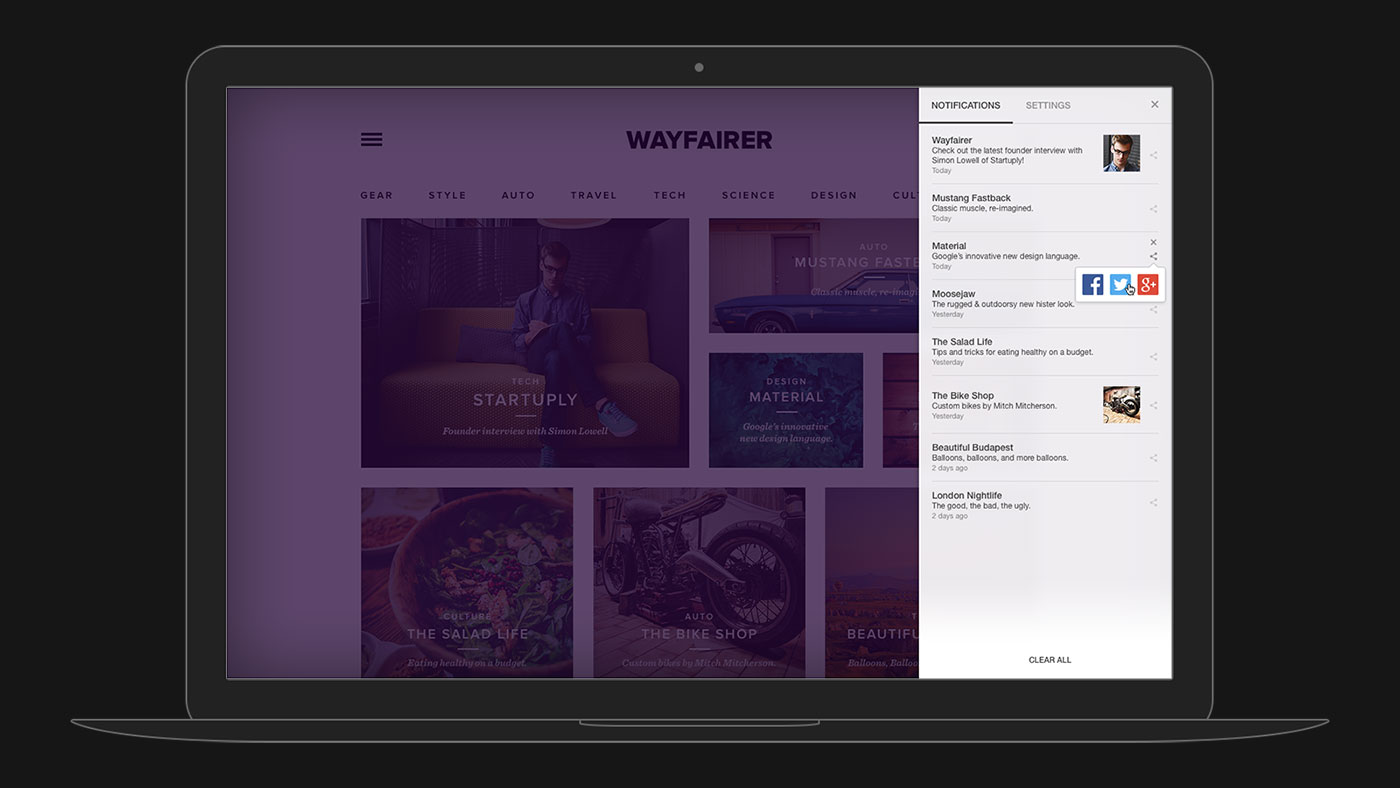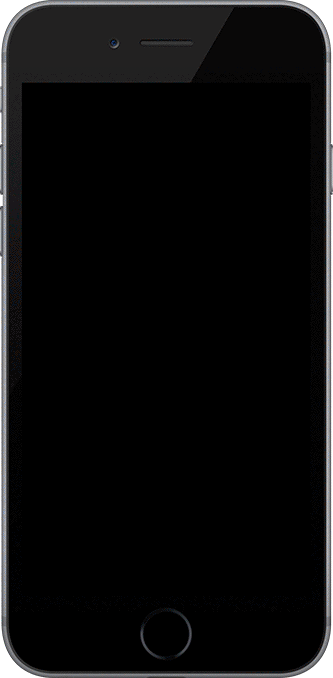 Functionality is 100% percent dependable, I've never experienced downtime, nothing odd has ever happened when I send notifications and the deliveries have always gone out with no issues, this is the main reason I'm still actively using this service.
Pricing is good, though it's a bit confusing to me. When I first signed up to Roost, a few things were different, one of which was the pricing.
The pricing of the service was something you could view and make a choice of what plan you wanted – this is no longer the case. I've been paying $9.99 but It's not measuring my usage.
In the billing area, I always see "0 of 100,000 Notifications" no matter how many notifications I send. Maybe this is due to the fact that I signed up to the service when it was still fairly new and basically free and I'm just part of a pricing plan that is no longer available.

I will talk about this more when I get to the cons of the platform.
Cons
Usability is sometimes lacking in the dashboard of Roost when it comes to statistics, whenever I first log into the platform, the statistics simply aren't there. I have to refresh the page a few times before it shows up.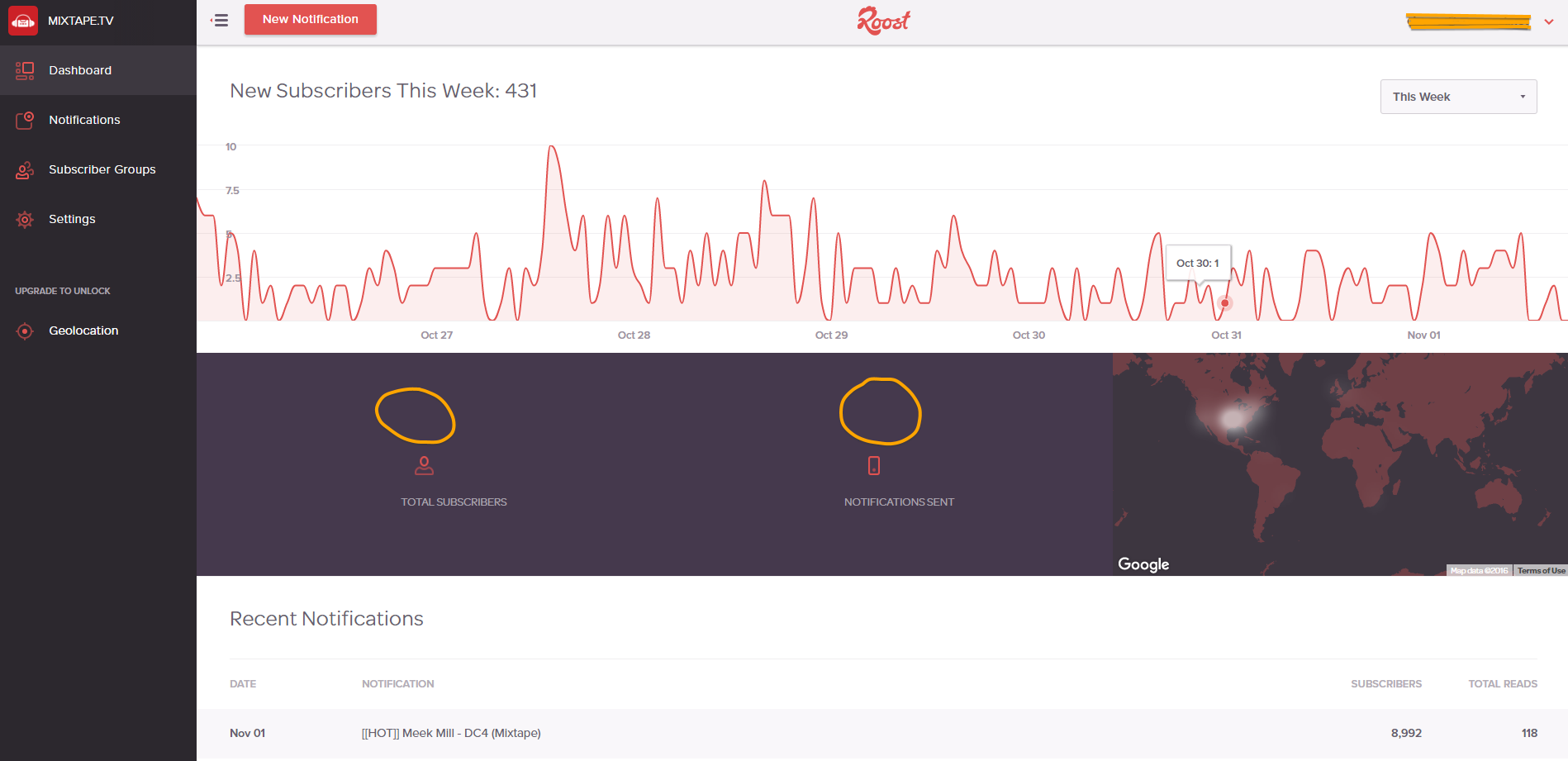 Access could also use some work, as far as user experience is concerned, I find myself being very irritated while trying to navigate to certain features of the site. I end up getting a message saying that I need to contact support in order to get access with no real explanation as to why I can't do it.



OK, so let us give them the benefit of the doubt. It does say you have to upgrade to unlock this feature, cool, lets me upgrade then:



Oh, that's right, I have to contact them for that too. Yeah, but why should I have to do that? Why wouldn't the Pro plan just be readily available for me to view and simply upgrade if I wanted to do so? This continues throughout the platform.




Whenever I see contact us for more information, I can almost guarantee I'm going to be in for some high-pressure sales pitch which I have no interest in dealing with.
Support – Speaking of contacting support, they're response time is very poor, I've contacted them for something minor before and the response time was a day. Maybe this was an isolated incident, I only contacted them once so I have to other data to base this on.
Pricing like I mentioned in the Pros is a bit confusing, It feels as if I'm in a pricing package that's not being measured or maybe that's just how it is at the Starter plan, where they give you unlimited notifications but limit your subscribers. Even if that is the case, it hasn't been explained in the billing section.
Conclusion
Although I'm actively using this service and satisfied with the delivery part of the platform as well as the statistics, I do feel uneasy about the cons I've mentioned above and those factors have really affected my overall scoring of this platform.
Nonetheless, I still recommend it as it a good choice for sending web push notifications because it does exactly what it says it does without fail.
I have more than one site and I'm going to be testing out different services with each one so I'll have more reviews coming.
So until next time, I'm out.